Engine Driven Water Desalination Systems
These water makers are the perfect seawater to drinking water machines. Everytime your boat's engine is running, the water desalination system will be producing large amounts of fresh water for you. At Cruise RO Water and Power, we provide the best-quality water desalination systems on the market, at a reasonable price, and with warranty included.
If you're looking for an efficient sea water to drinking water machine, our engine driven water makers are perfect for you. Additionally, we offer the possibility to make every water maker we distribute into a simple water desalination system.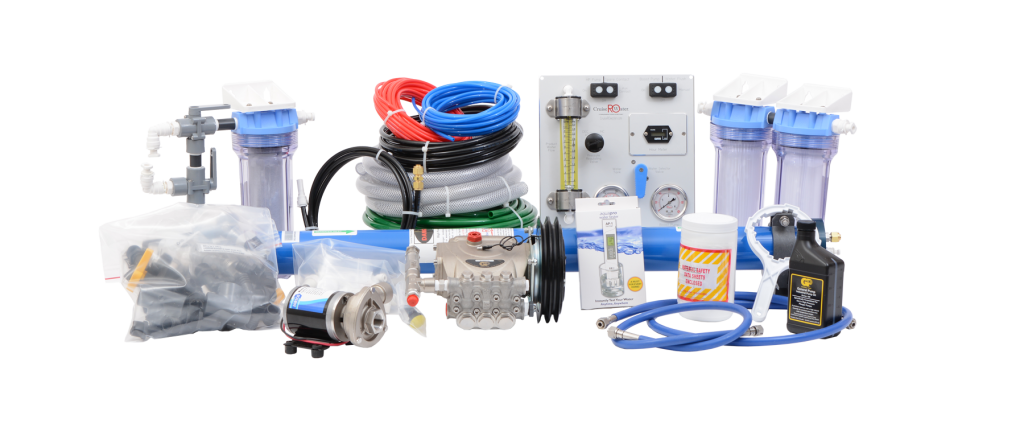 SEE THE MODEL BELOW FOR SPECIFICS AND OPTIONS
Model
Fresh Water Prod.
GPH/GPD
Boost Pump
Amps 12VDC
Price
SM25E
25/600
5
$4700
SM45E
45/1080
5
$5850
SM55E
55/1080
5
$6750
* Any Engine Driven Water Maker can be made into a Simple Water Makers (SM25ES, SM45ES and SM55ES) do not include the standard remote control panel and mount the system controls on the end of the RO Pressure Vessel, and are $395 less.
The below table provides the length, width, height, and weight of the various water desalination system modules. The listed dimensions represent the greatest size measurement to create a box that the module can be contained within. However, as can be seen in the module photo images, the modules could actually fit into a smaller space depending upon the installation orientation. These dimensions do not include the room needed for wires or hoses to enter or exit the equipment. All equipment comes with straight fittings. Optional 90-degree fittings are available.
Module
Length
(inches)
Width
(inches)
Height
(inches)
Weight
(pounds)
Pump and Clutch
10.5
9.5
7.5
24
(SM25): RO Pressure Vessel
45
5
6
15
(SM45): RO Pressure Vessel
45
10
6
30.5
(SM55): RO Pressure Vessel
45
15
6
46.5
Prefilter Assembly
13.75
9.75
5
5.2
12V DC Boost Pump
6.5
4.5
4.25
5.3
Valving and Cleaning Assembly
13.5
5
14.5
5
Remote Control Panel (Standard Hour Meter)
Depth protruding from back of panel
2.875 Depth
11
11.25
4.5
Remote Control Panel (Optional TDS Meter) Depth protruding from back of panel
3.5 Depth
11
11.25
4.75
Optional: Automatic Fresh Water Flush ($649)
9.75
8
4
3
*Please notify us if you plan a 24VDC installation so we can change the standard 12VDC electrical switch for your boost pump in your remote panel.
* Standard Boost pump is a 12VDC self-priming pump.
(Here is a link to a Video we made explaining why we like the 12V DC pump)
* A 120VAC Boost pump option available using 1.5Amp + $200
* A 24VDC Boost pump is available using 6.5Amp + $200
In other words, what you will need to supply: We made a YouTube Video going over the details
In summary:
Raw water through hull and shutoff valve
Raw water sea strainer (we recommend one like this)
Electrical installation wire and breakers for the AC and DC Pumps Mounting screws and bolts for the individual system modules
Zip ties and mounting straps for securing the electrical and water lines That's it! Everything else we provide with the water maker.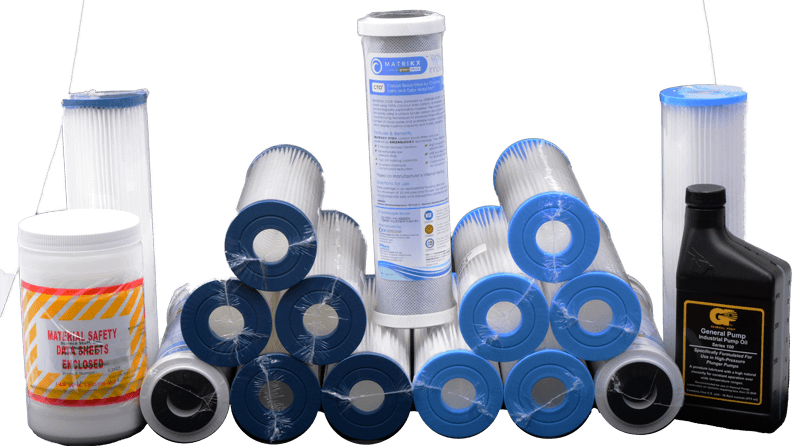 We put together the Cruising Consumable Kit with everything you will need to cut the dock lines and head out cruising for a year or more for 
$165
20 and 5 micron pre-filters
Pickling reagent
Activated carbon filters
High pressure pump crank case oil
*** The SeaMaker Simple line (SM30S, SM30S) do not come with a remote panel. The Simple water makers simply mount the needed system controls on the RO Pressure Vessel.
To request a copy of the SeaMaker water maker manual with technical specifications
along with detailed installation and operation instructions, click the button below.
Questions? We Are Here To Help.
Email or call and talk to the owners of the Company and the Designers, Rich and Charlie, 7 Days-A-Week. If they are awake, they answer!