The ProCharge Ultra line of boat battery chargers combines all the best components a marine battery charger needs. Designed to be energy-efficient and high performing, this line of marine chargers is what you need for your boat. All for a fair price.
At Cruise RO Water and Power, you can find all watermakers, refrigeration systems, battery chargers, and more to improve life on board. Browse our line of ProCharge Ultra boat battery chargers for the one that best fits your needs.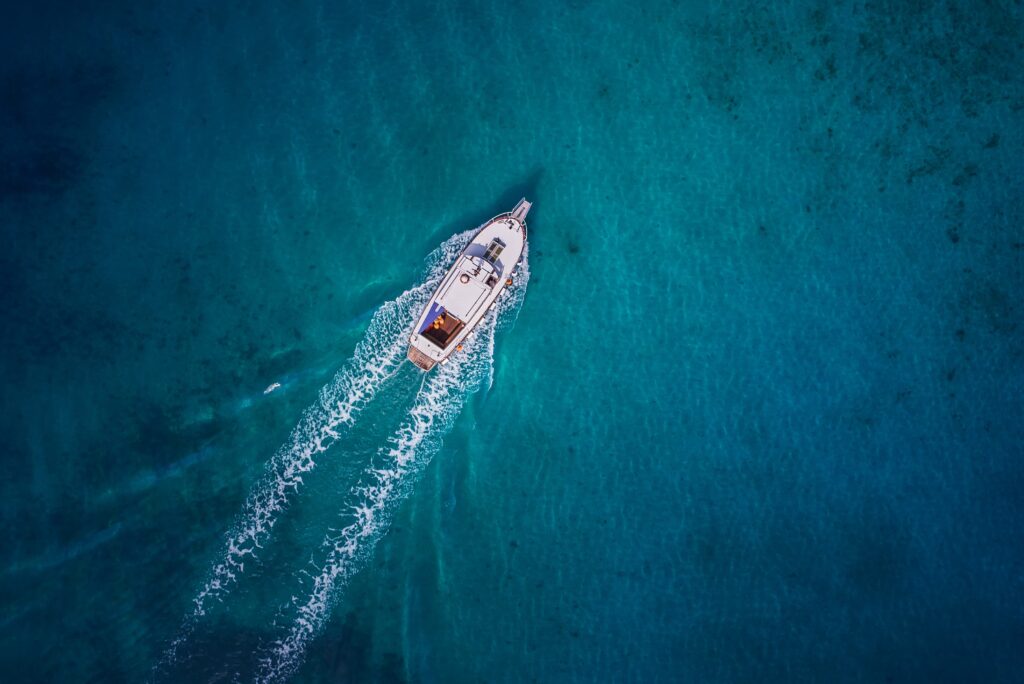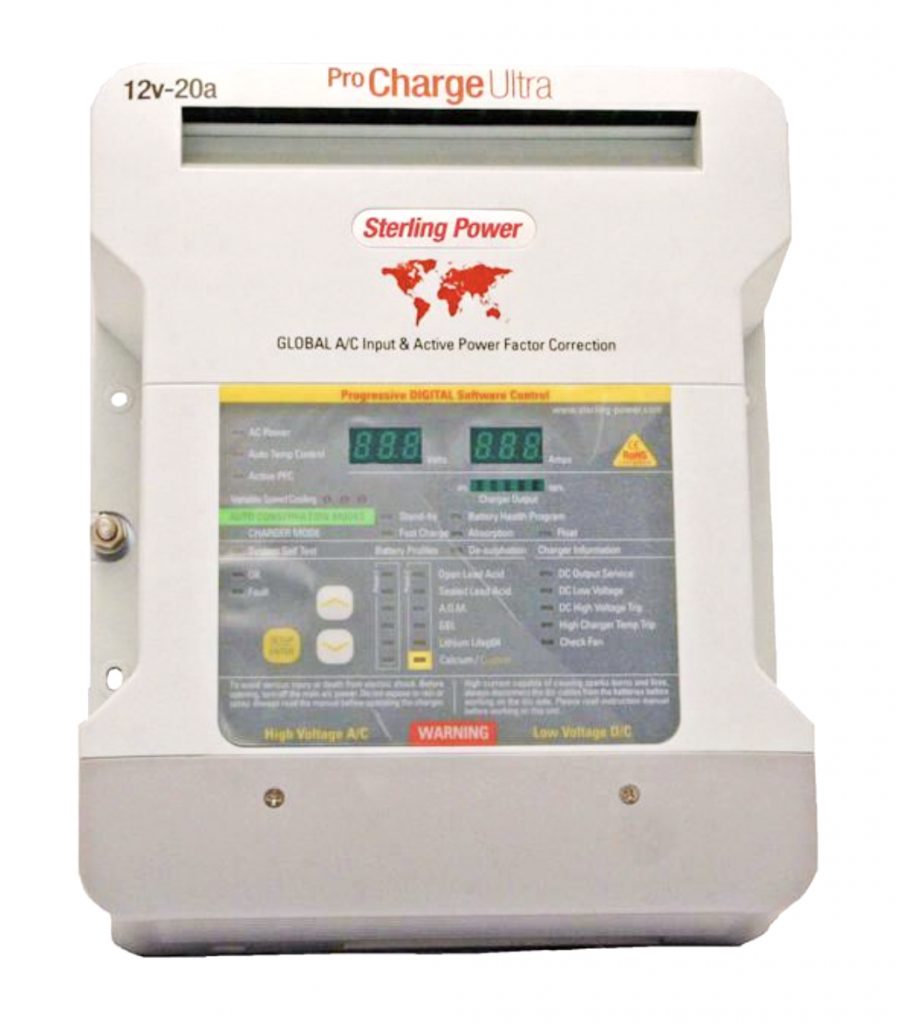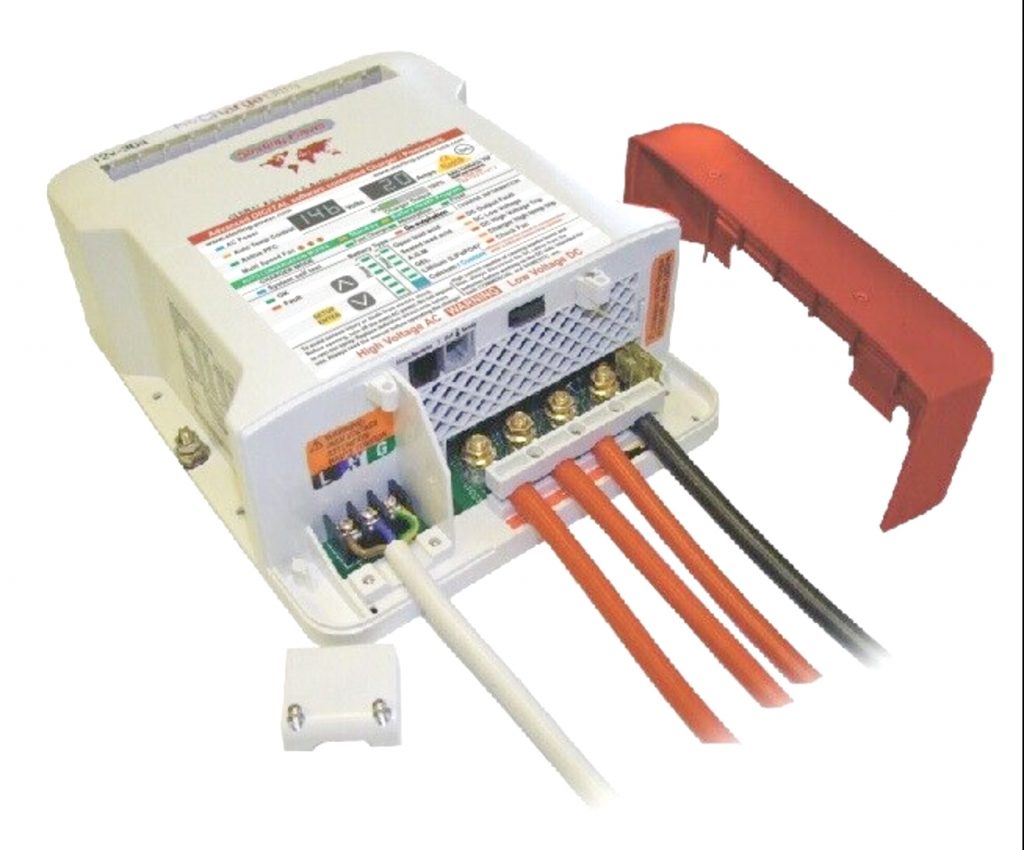 12v/24v ProCharge Ultra Battery Chargers
Available in Amp ranges from 10A to 60A
$200 PCU1210 – 12v 10 Amp
$320 PCU1220 – 12v 20 Amp
$380 PCU1230 – 12v 30 Amp
$410 PCU1240 – 12v 40 Amp
$500 PCU1250 – 12v 50 Amp
$580 PCU1260 – 12v 60 Amp
$420 PCU2420 – 24v 20 Amp
$580 PCU2430 – 24v 30 Amp
$100 PCUR – Remote Control
Why we chose this charger
The Honda EU2000i Generator will easily run the 60 Amp ProCharge Ultra Battery Charger. This makes it the perfect marine battery charger to pair with your SeaMaker 20 or 30 water maker and Honda Generator. As cruisers ourselves, we understand the boat battery chargers currently available on the market. As a result, we are confident you will not find a more feature-packed onboard Battery Charger for the money.
110x 68 x20 mm
Including 10 meters cable
Unique remote housing can be surface mounted, recess mounted or flush mounted
The Ultimate Battery Charger
This line of Marine Grade, Power Factor Corrected Battery Chargers set a new standard of what you should expect from your battery charger. It has the features, performance and price no other marine battery charger can match. 
We have years of experience in the battery charging industry. Our experience has provided us the insight to include everything we could possibly think of that could make a boat battery charger great. We then combined it all into the ProCharge Ultra line of feature rich, high performance marine grade battery chargers. 
This exceptionally efficient power factor corrected battery charger runs on any Global AC Power source between 90-260 volts. A ProCharge Ultra marine battery charger requires less input power, produces less waste heat, and still has a remarkably small, lightweight footprint. 
Did we mention Eleven pre-programmed battery charging curves as well as one user customizable battery profile? Check the real time voltage or current output on the digital display. You can also see it on the optional remote control which can be either surface, recess, or flush mounted over 30 feet away from the boat battery charger.
Model
Volt and Amp Output
Charger Size L x W x H
(Inches)
Weight in pounds
Number of Charge Outputs
Input watts
Price
PCU1210
12v 10 Amp
10.5 x 8.5 x 3.75
5.2
2
150
$200
PCU1220
12v 20 Amp
10.5 x 8.5 x 3.75
5.2
3
300
$320
PCU1230
12v 30 Amp
10.5 x 8.5 x 3.75
5.2
3
450
$380
PCU1240
12v 40 Amp
10.5 x 8.5 x 3.75
5.7
3
600
$410
PCU1250
12v 50 Amp
12.5 x 8.5 x 3.75
7.7
3
750
$500
PCU1260
12v 60 Amp
12.5 x 8.5 x 3.75
7.7
3
900
$580
PCU2420
24v 20 Amp
10.5 x 8.5 x 3.75
5.7
3
600
$420
PCU2430
24v 30 Amp
12.5 x 8.5 x 3.75
7.7
3
900
$580
PCUR
Remote Control
4.3 x 2.7 x 0.8
.1
N/A
N/A
$100
At Cruise RO Water and Power, we are proud of offering a line of feature-packed marine battery chargers. Our experience in the industry allowed us to choose the best features and combine them all into the ProCharge Ultra line of boat battery chargers. Our marine chargers for batteries include:
Global Input Power- This

marine battery charger

will operate anywhere in the world! By design, this battery charger will automatically operate with an a/c input of 90-260 volts (40-80 hz)

automatically

.

11 Pre-programmed battery charge curves, including LiPO4, GEL, AGM, Calcium, and Flooded Lead Acid Batteries.

Our marine charger features

one custom, user programmable battery charge profile. Can be set from the charger, no need for a computer.

Four Step Battery Charging Profile extends the life of your batteries by ensuring a full charge & conditioning. Moreover,

when charging is complete,

it enters a float

mode to

protect against overcharging your batteries.

One common negative, three positive battery posts allows the user to charge 1, 2 or 3 battery banks.

Our marine battery charger also offers

two Digital Meters displaying real time current and voltage measurements.

One power meter showing % of charger capacity being used as well as power capacity remaining.

When met with low activity, it activates stand-by mode to increase battery life.
9. It also features Active Power Factor Correction (PFC)- up to 0.99pf. It helps ensure efficient power conversion, increasing efficiency by nearly 40% over older, non-PFC technology.
10. Synchronized rectification output increases the efficiency of this charger up to 10% over traditional diode based chargers found on the market today.
11. High Voltage de-sulfation cycle is available for customers with flooded lead acid batteries (Equalization Mode).
12. Digital Microprocessor Controlled High Voltage Protection System (Primary) and an emergency backup analog controlled high voltage trip (secondary)
13. It is constructed of non-ferrous metals and marine grade materials. Lightweight, Compact footprint for easy installation.
14 . We designed and built it to UL1236 Marine & ABYC-31 standards.
15. 32 LED Information Panel, internal scan and systems check.
16. Remote port for optional remote control w/ 10 meter cable. Remote can be surface, flush, or recess mounted.
17. Battery temperature sensor included.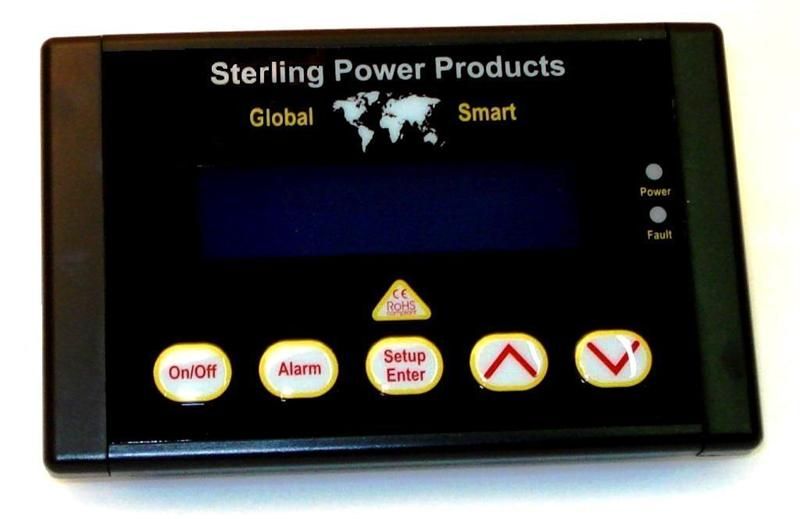 Model: PCUR Remote Control
Dimensions: 4.3″ x 2.7″ x 0.8″
Weight: 0.1 lbs
Included: 10 meter cable
Unique remote housing can be surface mounted, recess mounted or flush mounted
Why Choose Our Marine Battery Chargers?
At Cruise RO Water and Power, we are proud to offer many high-quality and high-performing systems for all cruisers out there. As cruisers ourselves, we understand the needs of people on board. This has motivated us to provide the industry with the most complete boat battery charger out there.
Our ProCharge Ultra line provides highly efficient marine battery chargers at an affordable price. No matter the boat, yacht, or cruiser you sail, our boat battery chargers will enhance your entire sailing experience. ProCharge Ultra chargers are energy-efficient, high-performing and feature-packed. 
Access Our Full Selection of Products
Our company offers all kinds of systems and equipment parts for boat owners, sailors, and boat management companies. We have a full line of reverse osmosis systems, marine refrigeration systems, as well as individual parts for sale. Browse our store today to fully enhance your vessel and ensure a more functional and efficient boat.
Questions? We Are Here To Help.
Email or call and talk to the owners of the Company and the Designers, Rich and Charlie, 7 Days-A-Week. If they are awake, they answer!