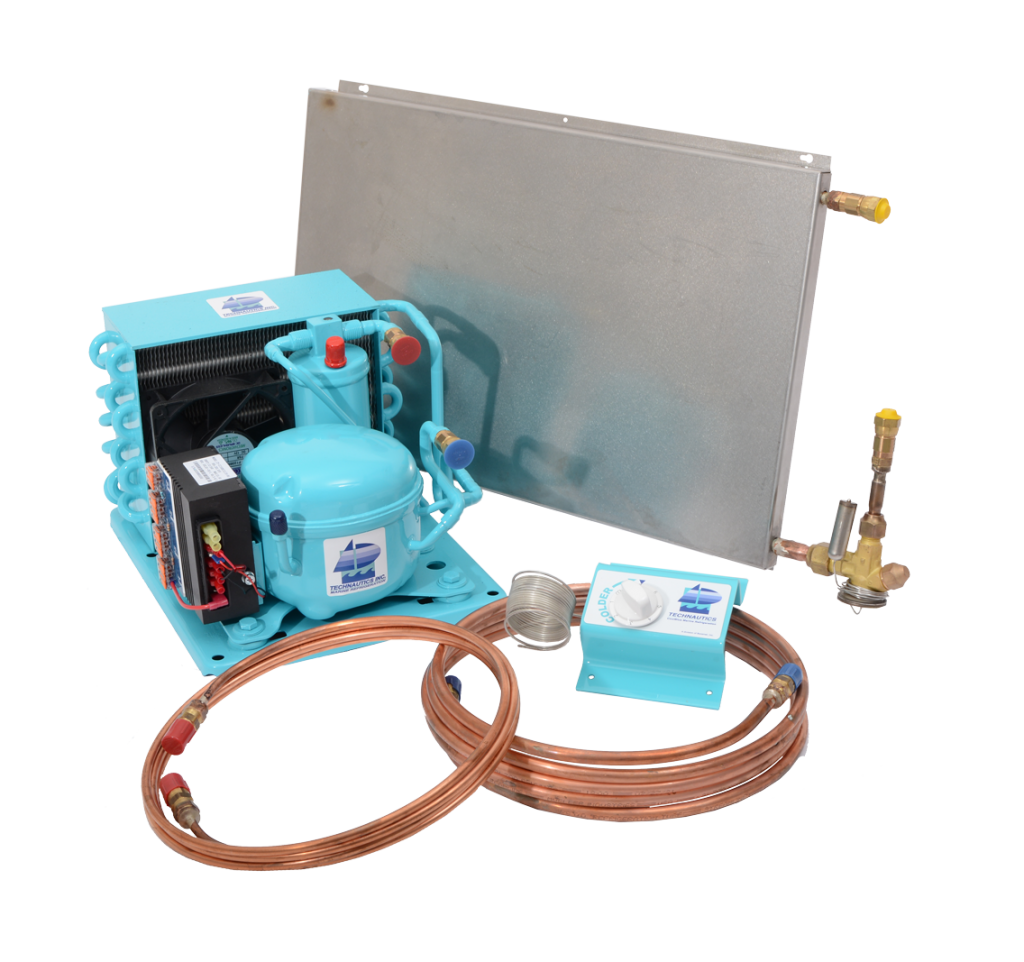 Complete CoolBlue Refrigeration System:
Fin/Tube holding plate with preset expansion valve custom configured to fit your box
Holding plate mounting brackets
DC condensing compressor unit operating on 12v or 24v
12ft copper tube sets with Aeroquip self-sealing connector ends (custom sizes available upon request)
Thermostat with mounting bracket
The ONLY 5 Year Warranty in the Marine Refrigeration Business with 7 Day a week Customer Service
LED Digital remote Temp display
Recharge service hose
COOLBLUE holding plate refrigeration systems are as reliable as your land based 120v kitchen refrigerator, while using half the daily amps of other 12v refrigeration systems. Utilizing the latest technology in variable speed compressor design, low amp 12v fan, over sized condensing coil, and holding plate with preset expansion valve. COOLBLUE operates simply and efficiently, eliminating the complexity and excess power associated with water-cooled systems. While other 12v systems require water cooling at temperatures above 90F, COOLBLUE operates at ambient temperatures up to 120F without a loss in system efficiency. All Technautics modular refrigeration systems are built, pre-charged with 134a refrigerant, and pre-tested prior to shipping and are cruiser installable and serviceable without any special tools, gauges or refrigeration experience.
45 YEARS of Marine Refrigeration Experience SINCE 1968!
COOLBLUE uses 1/2 the power as other 12v Systems
24AH/Day for a 7 cubic foot fridge/freezer with R-30
Offers the only 5-year warranty due to the robust design
No refrigeration technician or experience needed
Stainless steel holding plate resists corrosion and leaks
No water cooling needed even at ambient temps of 120F
COOLBLUE systems are pre-charged, pretested and built in Escondido, California USA.
CoolBlue
Evaporator Systems
WATER COOLING
Not needed, even at 120 ° F (50 ° C)
Required at temperatures over 90 ° F (32 ° C)
ALTERNATE AIR
Not needed
Suggested
POWER CONSUMPTION
in a 7 cubic foot (200 liters), R-30 box
24 amp hours/day
48 amp hours/day
FREEZER CAPACITY
in a 7 cubic foot (200 liters) box
1/3 freezer,
2/3 refrigerator
120 pounds of frozen food
12 pounds of frozen food
DISTANCE
from compressor to box
2-50 foot
customized per order
9 foot only
PLATE
Stainless Steel
Aluminum, thin & easily punctured,
susceptible to corrosion
SERVICEABILITY
Site glass and service ports provided,
serviceable by owner
No service ports provided,
only serviceable by refrigeration technician
To download a copy of the CoolBlue manual with technical specifications
along with detailed installation and operation instructions, click the button on the right.
Questions? We Are Here To Help.
Email or call and talk to the owners of the Company and the Designers, Rich and Charlie, 7 Days-A-Week. If they are awake, they answer!