Piston Generating Watermakers for Boats and Yachts
Being cruisers ourselves, we understand the challenges of powering a large-capacity water maker aboard a cruising vessel. Because of this, we devised the revolutionary idea to design our SeaMaker 20 and 30 gallon-per-hour units. These marine watermakers for boats operate on the power produced by a cruising staple, the Honda EU2000i generator or small diesel genset. 
The ability to produce 20 or 30 gallons of fresh water per hour changes everything. Choosing our watermakers makes daily showers for the crew, fresh water deck, and gear wash-downs possible. Furthermore, our 20 and 30 gallon SeaMaker makes fresh water anchor chain wash-down and fresh water flushing heads a reality for the average cruiser.
20-60 GPH AC Water Makers
We designed and priced the SeaMaker water makers to be the largest output watermakers for boats and yachts on the market for the money. In our years of cruising we have never heard someone say, "My water maker is too large, I sure wish I would have gotten a smaller unit". The standard complaint about watermakers for sailboats out in the cruising world (other than their cost) is their low output and difficulty in having enough 12V DC power to run them.
20-40 GPH DC Water Makers
We carry a full line of DC-powered watermakers for boats and yachts from 12 to 48v DC as standard. Larger DC-powered water makers are available upon request and we can provide a quote for them. In most cases we can match the voltage of the boost pump to the high-pressure pump motor.
Being cruisers ourselves means that we are budget conscious and are always looking for ways to reduce costs while still maintaining quality. Simply stated, we are able to reduce the cost of our SeaMaker Simple water makers by $395 over our standard watermakers for sailboats. We achieve so by doing away with the remote panel and mounting the needed water maker controls right on the end of the RO Pressure Vessel.
Engine-Driven Water Makers
We provide engine-driven watermaker pumps with clutches for those customers that want to make water using their propulsion engine. Sometimes these customers cannot run an AC or DC watermaker for boat but can take advantage of their large horsepower motor. We can provide the necessary information to assist in designing their installation.
Custom Water Makers + Retrofit Existing Water Makers
We can build a custom watermaker for sailboats to suit your specific application or installation needs. We have delivered custom desalination systems for clients who only have some water maker parts. Furthermore, we have built systems for clients who have a working watermaker for boat but want to complete or upgrade it. We are usually able to turn low output DC water makers into a 30 gallon per hour 120v AC high output systems, and reuse existing parts to save costs.
SeaMaker Water Maker Highlights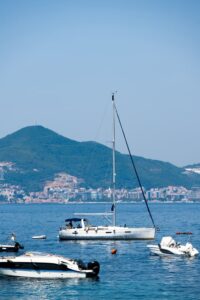 We designed and priced the SeaMaker systems to be the largest output watermakers for boats and yachts on the market for the money. In our years of cruising we have never heard someone say, "My water maker is too large, I sure wish I would have gotten a smaller unit". The standard complaint about water makers is usually their cost or low output. Moreover, the difficulty in having enough 12V DC power to run them is also a common problem.
The Honda EU2000i Generator can power both SeaMaker models for 5 hours on a single tank of gas. Furthermore, it will still have power left over to charge your batteries. You can make 100 gallons of water from the SeaMaker 20 water maker. With the SeaMaker 30 watermaker for boats, you can make 150 gallons. 
When it comes to watermakers for sailboats, size does matter. When selecting a water maker for your cruise, don't be fooled by the myth about water maker sizing. In our opinion, this myth simply tries to rationalize the buying decision of a low production rate water maker. More often than not, it's the cost of a higher output unit that forces the buying decision of a lower output unit.
Sure watermakers for boats and yachts (specifically the RO membranes) like to be run rather than sitting unused. However, if the system is designed properly for easy fresh water flushing and pickling when not in use, your RO membrane will not suffer loss of life due to infrequent use. 
We also offer an Automatic Fresh Water Flush Option that will automatically flush fresh water for you. This eliminates the need for pickling or remembering to flush the water maker when not in use!
Our design and company philosophy is simple. We build a watermaker for sailboats that is easy to install, operate, service and repair. Most importantly though, we do it without a "Marine" or "Cruising Gear" price premium. Our a low-cost watermaker for sailboats with no proprietary parts doesn't lock you into an overpriced relationship for consumables or replacement parts. This doesn't just result in a more affordable water maker, but in a better watermaker for boats.
Don't let our lower cost fool you. We use Industrial grade parts and components to fully assemble the SeaMaker water makers in San Diego, California. This allows the end user to have a "plug and play" installation experience. There is a reason we have the best Warranty in the water maker industry: Quality Parts and Assembly.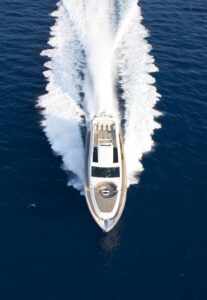 Our SeaMaker water makers are not water maker DIY kits or a collection of mismatched parts requiring top to bottom user assembly. Our SeaMaker water makers are shipped fully assembled in modules that only need to be mounted and plumbed with the supplied color-coded connectors.
Keeping our overhead low and understanding what works out in the real world of cruising allows us to supply the cruising community with a top quality large capacity water maker. The best part is it comes at a price that won't sink your cruising kitty. We do all this while offering an industry leading three (3) year warranty and 7 day a week technical support.
A good place to start for a technical overview of a SeaMaker water maker is by reviewing the flow schematic below for a SeaMaker 30. The SeaMaker 20 watermaker for sailboats only has one RO membrane and pressure vessel. On the other hand, the SeaMaker 30 and 40 water makers both have two RO membranes and pressure vessels plumbed in series.
If you have spent some time researching water makers on the web, you may notice that our flow schematic looks similar to many of the other watermakers for boats on the market. The similarities stand to reason because reverse osmosis desalination technology is not black magic. Instead, it is mainstream technology with a good track record of performance.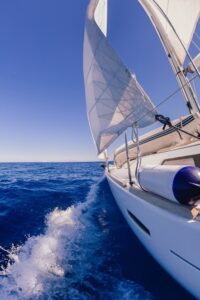 This is important to you because the parts and components that make up a commercial RO water maker should be commodity priced rather than "black magic priced". Recognizing the commodity based nature of the RO industry; we have priced our SeaMaker water makers at what we think is a fair starting price. We only raise our price for a larger output water maker to match any increase in our raw component prices and not just because the product water flow rate increases.
In a break with the water maker pack, we utilize NO proprietary parts and make NO attempt to hide the manufacturer of our industry standard components. We don't remove the manufacturer's nameplate and replace it with our own. 
You can reach us via phone, email, text, or Skype with any question regarding all parts of our watermakers for boats. We don't play games, we simply answer your question. Try that with some of the other water maker manufacturers and you would think they are trying to hide the parts for a Flux Capacitor or Cold Fusion!
The best way to get a detailed understanding and feel for our watermakers for boats is to review our detailed manual. So, if you would like a copy of our Installation, Operation and Maintenance Manual for review just drop us an email and we will send you a PDF copy electronically. Don't be surprised to receive a reply back from us on weekends or after normal business hours. Unlike the "big names" in the water maker business, we are available for customer support and service 7 days a week.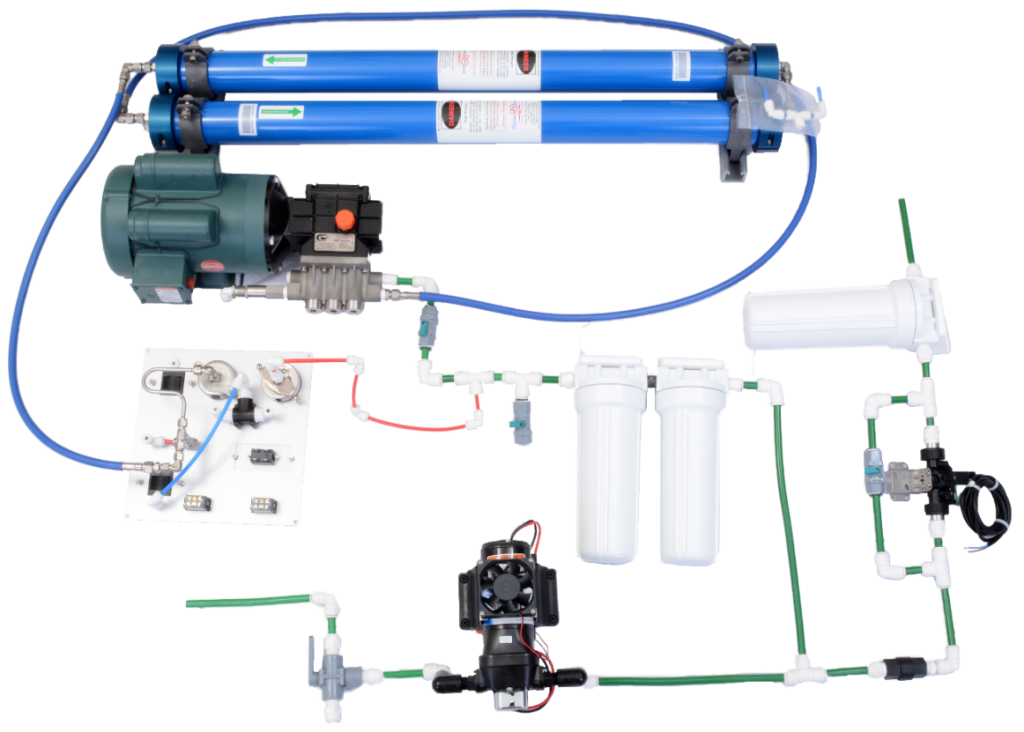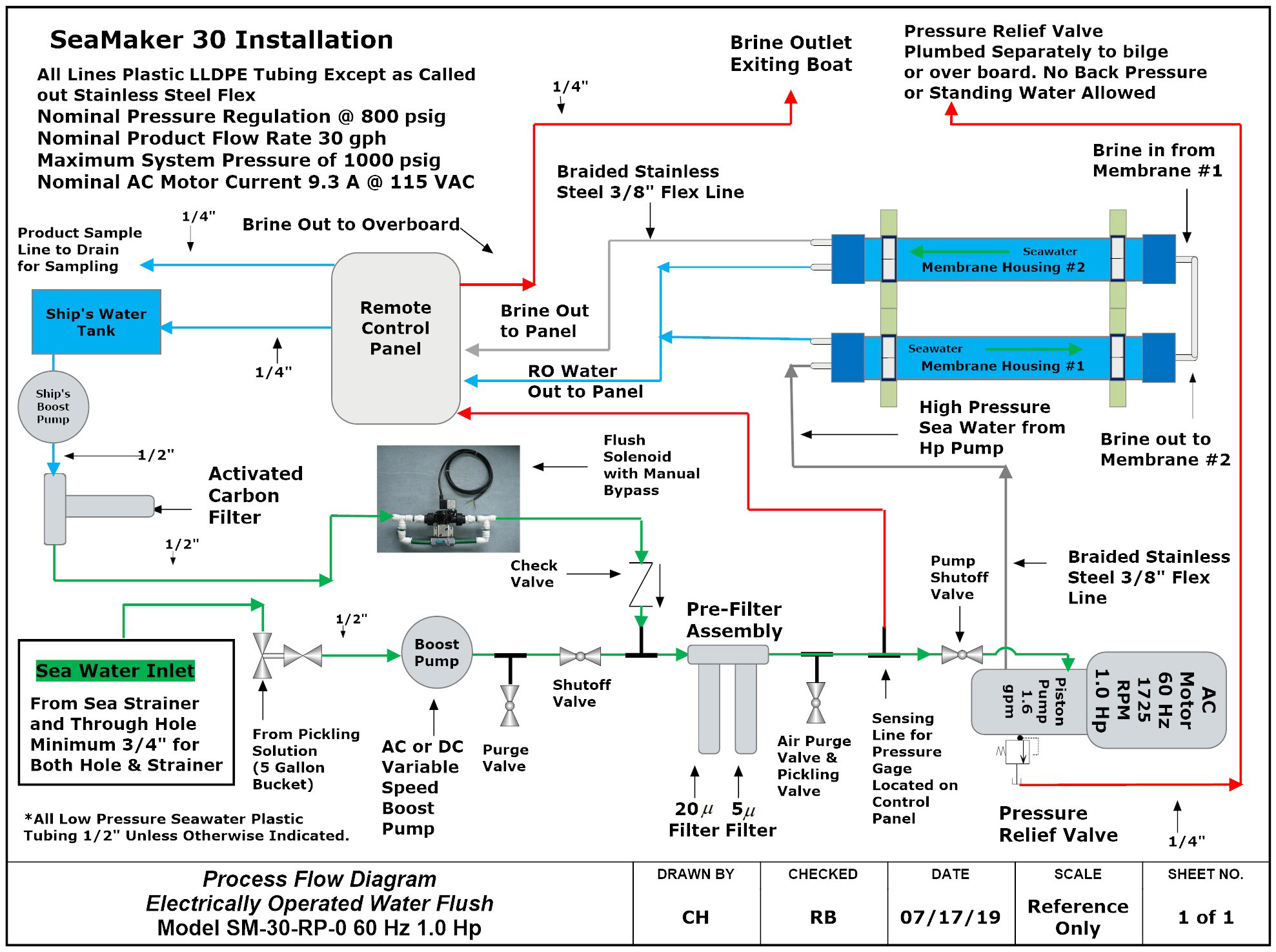 Questions? We Are Here To Help.
Email or call and talk to the owners of the Company and the Designers, Rich and Charlie, 7 Days-A-Week. If they are awake, they answer!