CoolBlue Marine Refrigeration Systems
Finding the right equipment to stay safe and comfortable on board is vital. CruiseRO offers the highest quality marine refrigeration equipment to help you keep your provisions fresh and chilled even on the longest voyages. Whether you're seeking the top option on the market or exploring "what is a marine refrigeration system" and how refrigeration works, you're in the right place.
Introducing the cutting-edge CoolBlue Marine Refrigeration Systems. The high-performing, energy-efficient, and reliable refrigeration systems ensure optimal cooling while preserving onboard space. Explore our page now to find the perfect refrigeration solution tailored to your vessel's needs.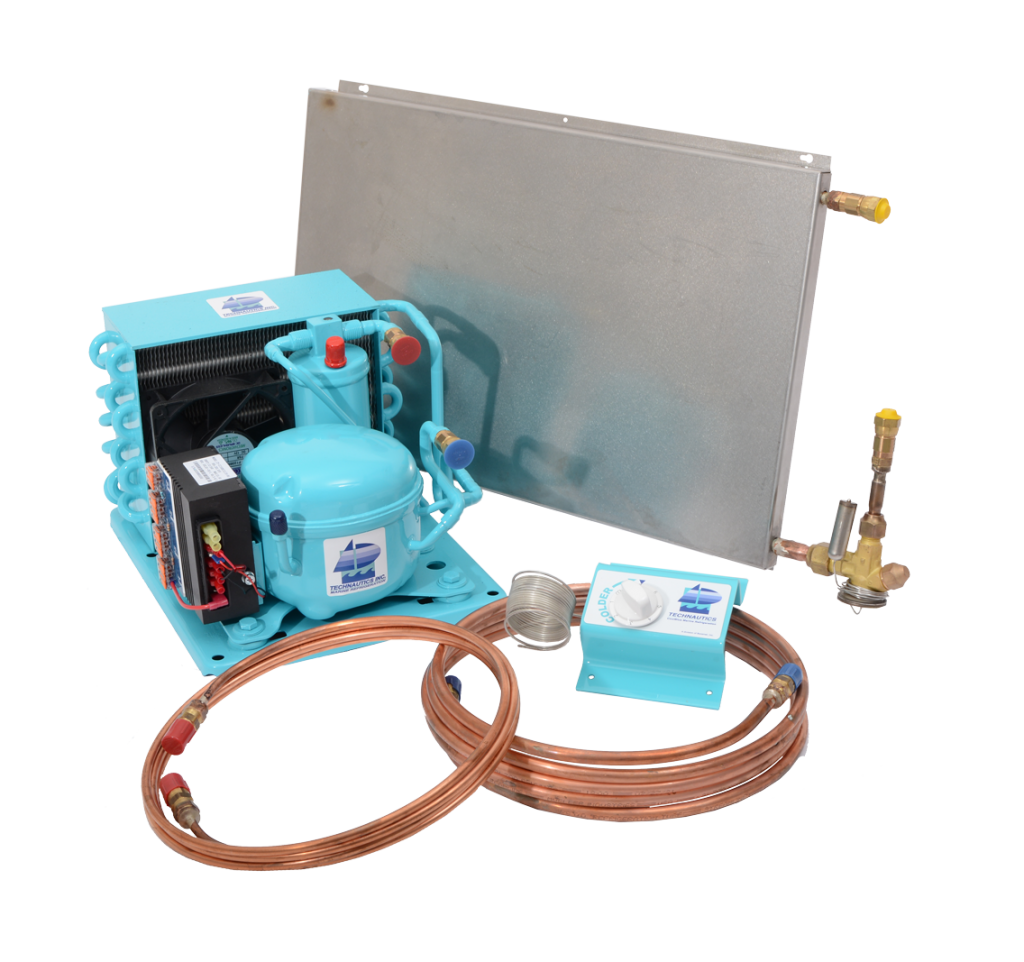 Complete CoolBlue Refrigeration System:
Superior performance, unrivaled features. The CoolBlue is one of the most energy-efficient, cost-effective, and high-quality marine refrigeration systems on the market, featuring:
Fin/Tube holding plate with preset expansion valve custom configured to fit your box
Holding plate mounting brackets
DC condensing compressor unit operating on 12v or 24v
12ft copper tube sets with Aeroquip self-sealing connector ends (custom sizes available upon request)
Thermostat with mounting bracket
The ONLY 5 Year Warranty in the Marine Refrigeration Business with 7 Day a week Customer Service
LED Digital remote Temp display
Unleash the Power of CoolBlue Refrigeration
COOLBLUE holding plate refrigeration systems are as reliable as your land-based 120v kitchen refrigerator while using half the daily amps of other 12v refrigeration systems. Utilizing the latest technology in variable speed compressor design, low amp 12v fan, an oversized condensing coil, and holding plate with preset expansion valve. 
COOLBLUE operates simply and efficiently, eliminating the complexity and excess power associated with water-cooled systems. Other 12v systems require water cooling at temperatures above 90F. On the other hand, the COOLBLUE refrigeration system operates at ambient temperatures up to 120F without compromising the system's efficiency. 
All Technautics modular refrigeration systems are built, pre-charged with 134a refrigerant, and pre-tested prior to shipping. Moreover, they are cruiser installable and serviceable without any special tools, gauges, or refrigeration experience.
Experience the outstanding CoolBlue marine refrigeration system, the ultimate choice for cost-effective and efficient cooling on your boat. Stand out with its high-performance features, delivering a range of advantages such as:
45 YEARS of Marine Refrigeration Experience SINCE 1968!
COOLBLUE uses 1/2 the power as other 12v Systems
24AH/Day for a 7 cubic foot fridge/freezer with R-30
Offers the only 5-year warranty due to the robust design
No refrigeration technician or experience needed
Stainless steel holding plate resists corrosion and leaks
No water cooling needed even at ambient temps of 120F
COOLBLUE systems are pre-charged, pre-tested, and built in Escondido, California USA.
CoolBlue
Evaporator Systems
WATER COOLING
Not needed, even at 120 ° F (50 ° C)
Required at temperatures over 90 ° F (32 ° C)
ALTERNATE AIR
Not needed
Suggested
POWER CONSUMPTION
in a 7 cubic foot (200 liters), R-30 box
24 amp hours/day
48 amp hours/day
FREEZER CAPACITY
in a 7 cubic foot (200 liters) box
1/3 freezer,
2/3 refrigerator
120 pounds of frozen food
12 pounds of frozen food
DISTANCE
from compressor to box
2-50 foot
customized per order
9 foot only
PLATE
Stainless Steel
Aluminum, thin & easily punctured,
susceptible to corrosion
SERVICEABILITY
Site glass and service ports provided,
serviceable by owner
No service ports provided,
only serviceable by refrigeration technician
How The Refrigeration Loop Works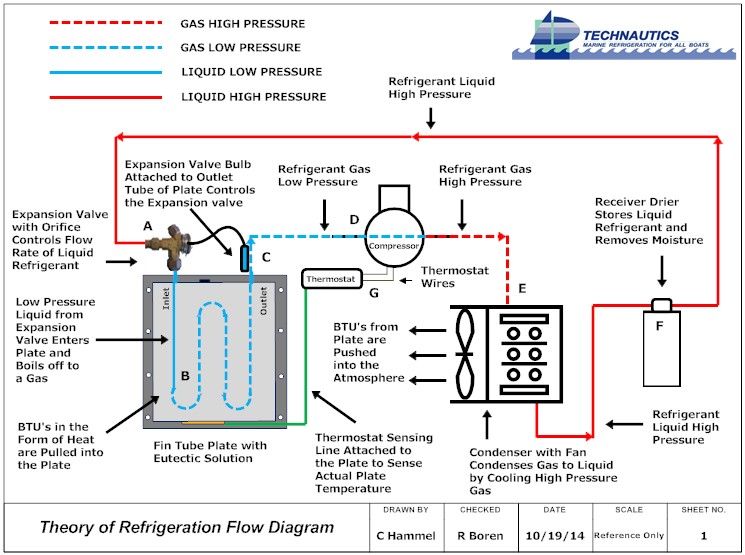 Uncover the secrets of "what is a marine refrigeration system" and learn how it keeps your adventures cool and fresh. The first known artificial refrigeration system was demonstrated by William Cullen in 1748. But relax; it's not completely necessary to understand the Physics of the basic refrigeration loop to enjoy the benefits of cold beer and ice cream onboard! But for the scientifically inclined, it sure is "cool" (that's a science nerd joke I couldn't resist).
The flow chart (left) represents the basic CoolBlue refrigeration systems. Starting with the pressurized liquid refrigerant ahead of the fin/tube holding plate cooling evaporator at Point A, the introduction of liquid refrigerant is regulated by a thermally adjusting expansion valve (TXV) that is controlled by temperature and pressure.
The pressurized refrigerant is reduced in pressure across the expansion valve from high pressure (Point A) to the fin/tube evaporator holding plate pressure (Point B). The expansion valve acts as a boundary between the high and low-pressure sides of the system. It uses the holding plate exits refrigerant gas temperature to throttle in more or less liquid refrigerant.
Once inside the holding plate, the low-pressure refrigerant evaporates and absorbs heat from the eutectic solution. The refrigerant liquid and vapor passing through the fin/tube holding plate evaporator coil absorbs heat until it is completely evaporated and turns into gas (Point C). The now-heated gas is drawn through the suction line to the compressor suction (Point D). 
The increased pressure produced in the compressor causes the gas to compress and heat to transfer into the condenser (Point E). In the condenser, heat is removed, causing the refrigerant gas to condense back to a liquid refrigerant form. The liquid refrigerant is collected and stored in the filter/drier (Point F) and is available to begin the refrigeration cycle again. 
The thermostat (G) monitors the temperature of the holding plate and turns the compressor on/off. It ensures that the eutectic solution is never allowed to defrost and undergo a phase change from solid back to liquid.
What Our Customers Are Saying
"Of all the machinery I have on my boat, SUNDANCE, your fridge has been trouble free for the three years I have had the boat. If all my machinery worked as well, there would be a lot of mechanics out of work. Thanks for a great product."
"Before the old compressor stopped working, it was drawing 10-12 amps. To our delight and surprise, the new one only draws 3.5 amps. The solar panels stay well ahead of it, and it's been on for 3 months. Cold beer and ice cubes while anchored in Tenacatita Mexico! "
"Technautics, after trying several brands of cold plates with no satisfaction, we purchased a Technautics Coastal coldplate from West Marine. We cruised the Bahamas and the east coast of the U.S. last year in out Hardin 45 with no refrigeration problems."
"After much deliberation, I decided to purchase a Cool Blue 12 volt, air cooled, holding plate refrigeration system from Technautics. To say that I am pleased with the system, would be an understatement!! The system is performing very well. Everything placed in the freezer is frozen solid, the temperature in the freezer seems to stay right around 10 degrees. The spillover system is keeping the refrigeration portion at approximately 40 degrees with the spillover opening shut. would highly recommend anyone considering replacing or adding refrigeration to take a good look at this system ! I am not in any way affiliated with Technautics and only pass this information to the list based on my personal experience. I almost forgot the most important thing!!! I now have solidly frozen ice cream!!!!!!
"Randy, We have finished the installation of our "Cool Blue" and are extremely happy. We have 4 cu ft of freezer and 4.6 cu ft of refrigerator and have reached -17F in the freezer! We found that keeping the dial at 2 keeps the freezer just above zero and the fridge about 40!"
"I started the unit up first time this am. I set it at 4 on the dial and it was pulling 7 amps at 72°. By the time I let at 8pm to go back home it was down to 4 amps and 9 and still falling. I am very happy with it! Thanks for making our summer vacation more fun!"
"Thank you for being so responsive to my concerns regarding the CoolBlue system. I am most impressed with your attention to detail and customer service. Please use the enclosed check to take your crew to Wahoo's for fish tacos and brewskis on me."
To download a copy of the CoolBlue manual with technical specifications
along with detailed installation and operation instructions, click the button on the right.
Or call and talk to the owners of the Company and the Designers & Builders of the COOLBLUE Refrigeration system, Rich and Charlie, 7 Days-A-Week. If they are awake, they answer!

At CruiseRO Water and Power, we offer a unique blend of sailing and manufacturing expertise. We understand your needs and provide tailored solutions for your onboard comfort.

Our commitment to durability and quality ensures you have the best onboard solutions. Our premium product range features high-quality marine refrigeration systems, RO systems, and more.

Our non-proprietary part-built systems offer cost-effective solutions. We help you minimize upfront and replacement costs while enjoying reliable boat refrigeration and more.
Our custom watermaker systems showcase our adaptability. We design and manufacture solutions tailored to your precise needs, ensuring you have reliable onboard solutions.