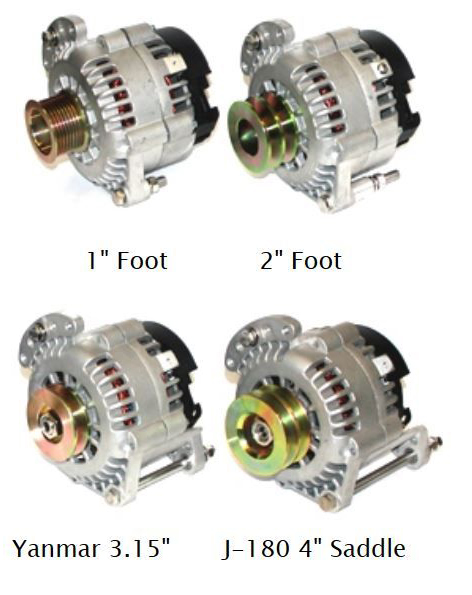 DC Power Solutions High Output Alternators
Our High Output alternators are available in configurations to easily fit the common Frame, Pad, and Saddle mounting options found on all the common marine diesels. The 80, 100, 120, and 140 Amp Alternators are designed to produce 70% of their output at idle RPMs, while the 160 Amp produces 60% and the180 and 200 Amp produces 50%. This design feature allows for maximum charging capacity at lower engine speeds.
$699
100 Amp Alternator


$799

140 Amp Alternator


$949

160 Amp Alternator


$1,049

180 Amp Alternator


$1,149

220 Amp Alternator


$1,299

250 Amp Alternator (note lager frame)


$1,599

110 Amp Alternator at 24v
You won't find a glossy powder coated alternator with marketing flash and sizzle. Sound engineering knows that the powder coating will act as an insulator on the aluminum alternator housing hindering the efficient dissipation of heat, resulting in a burned out alternator. We gave up the flash and sizzle paint job for an alternator that simply doesn't overheat when combined with it's optimal dual fan cooling and design features. The alternators come with an industry leading three (3) year limited Warranty!
Out of Box ability to wire with, without or in conjunction with an external regulator
Internal Dual Stage Internal Regulator that acts as back-up if connected to an external regulator
Ignition Protection for Gas or Diesel Engines
Hand Wound Heavy Duty Marine Rotor and Stator
Operating Speed- 18000 RPM Continuous 19000 Intermittent (30 sec)
Charging Output – Single Positive Post
Bearings – Heavy Duty Sealed and Lubricated
Dual internal Fans for enhanced cooling
Temperature Limits -40°F to 302°F
Regulation – Dual Stage Internal
Wiring- Plug and harness Included
Polarity – Negative Ground
Natural Unpainted Aluminum Body for more effective heat dissipation
Weight – 11lbs
Industry Leading Three Year (3) Limited Warranty

Installation Option 1:
Copper Jumper in place for internal regulator field control only
Installation Option 2:
Copper Jumper in place and external regulator field wire in place for internal AND external regulator control. This configuration allows for the internal regulator to take over control if the external regulator was to fail.
Installation Option 3:
Copper Jumper removed and external regulator field wire in place for external regulator control only.
Questions? We Are Here To Help.
Email or call and talk to the owners of the Company and the Designers, Rich and Charlie, 7 Days-A-Week. If they are awake, they answer!